Sunstone has designed a completely unique closed-loop feedback resistance welding system that utilizes new technologies, giving the UC Linear DC welder the power of a High-Frequency Inverter and the precision of a Linear DC. It does not require an external transformer, so it isn't an HF welder, and it offers a greater range of settings than a typical Linear DC welder, yet is able to perform the same functions as both, and in most cases exceed those of other HF or Linear DC welders – offering high repetition rates, fine low-energy control, and short or long weld times – without drawbacks.
The welder is highly adjustable to offer the most convenience to a wide variety of users allowing creation of custom software, ability to update and improve capabilities, features and functions effortlessly.
The UC linear DC can also introduce high-frequency agitation that provides additional weld penetration, more uniform metal crystallization, stronger weld joints, and can facilitate stronger weld joints with lower overall heat input.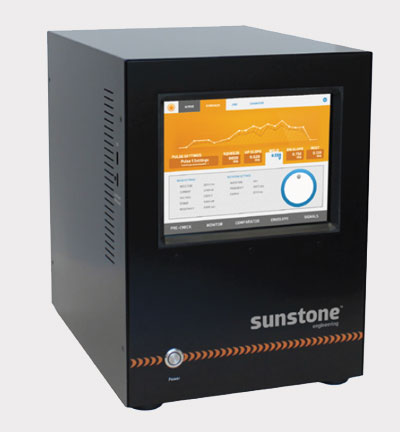 •High precision linear DC welder
•No external transformer required
•Programmable Schedules and Jobs
•10" Capacitive Touch screen Interface
•Closed loop feedback and weld monitoring technology
•Graphical feedback display of current, power and voltage
•LVDT (position) Feedback
•Data logging via USB and ethernet
•Customizable waveform generation
•Fine control over energy waveform
LDC 1500W
LDC 3000W

Nominal Line Voltage (Single Phase)

90-264 AC Version

180-264V

Duty Cycle

4%

8%

Current

10A -2500A 10 Amp/Step

10A -2500A 1 Step

Voltage

0.1V - 10.0 V at 10 mV/Step

0.1V - 10.0 V at 10 mV/Step

Power

0.01kW - 20kW 10Watt/Step

0.01kW - 20kW 10Watt/Step

Peak Current

2500 A

2500 A

Peak Voltage

10V

10V

Peak Power

20kW

20kW

Weld Period Ranges

weld time (each section)

Squeeze/Hold Periods

Ranges (msec)

0-100

0-5

Resolution (steps)

0.1 ms

1 ms

Ranges (msec)

0-100

0-5

Resolution (steps)

0.1 ms

1 ms

Current Output Accuracy

±10A

±10A

Voltage Output Accuracy

± 0.005V

± 0.005V

LxWxH

15.2x11.4x15.5in (38.5x28.9x39.3cm)

15.2x11.4x15.5in (38.5x28.9x39.3cm)

Weight

46.5 lbs (21.1kg)

46.5 lbs (21.1kg)