The Orion mPulse 30 is a small and friendly welder that is easy to use and offers great versatility. Packing a has a 30ws power potential, it's great for small quick welds on a light duty cycle.
There are 11 different power settings to choose from ranging from 5.0ws to 30ws, in 2.5ws increments. The smallest weld spot size is nearly 1mm, depending upon your material. The largest setting of 30ws will yield a weld spot approximately 1.5mm in diameter, also depending on material.
The mPulse 30 works amazingly well with Titanium, Steel, Gold, Silver and many other metals used in a wide range of industries. It's a superior alternative to any solder application; and, measuring in at 5.5" x 5.25" x 3.625", the mPulse 30 is small and out of the way.
Research and developement with a PhD team of engineers has allowed something this small to be as versatile and powerful as a larger machine.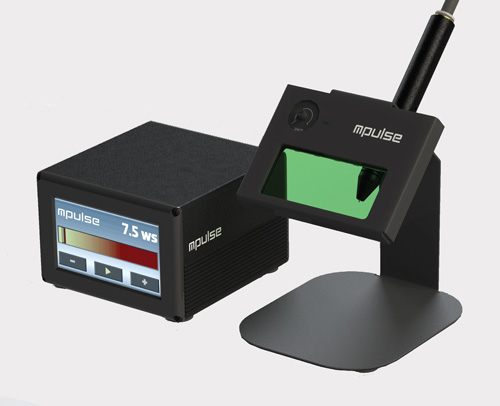 MPULSE 30 Features
User Friendly

30ws Power Potential


1mm-1.5mm weld spot

Compact, measuring in at 5.5" x 5.25" x 3.625"

Versatile, with the ability to weld a variety of metals including Titanium, Steel, Gold, Silver

| | |
| --- | --- |
| Features | MPULSE 30 |
| Weld Modes | 1 |
| Peak Power (W) | 30 W |
| Energy (ws) | 5-30 ws |
| Pulse Frequency | 1/3.5 Hrz |
| Weld Spot Diameter | 0.8-1.7 mm |
| Display | 4.3" Touch Screen TFT LCD |
| Display Feature | Screen Atuo-Calibration |
| Darkening Shutter Visibility | Shade 3 to Shade 12 |
| Footprint | 100/230 VAC (Auto Detected) |
| Welder Weight | 2lbs. 6oz. (1.07 kg) |
| Welder & Auto Darkening Stand Weight | 4lbs. (1.81 kg) |