The Orion 100c is the compact, entry-level Orion welder, and was designed and developed to meet the needs of the market – smaller footprint to save space, easy-to-use touch screen interface for quick access and adjustments of welding parameters, high-frequency agitation options for difficult to weld metals, and all this at a low initial cost. The Orion 100c continues the Orion legacy by providing the most high-tech, versatile, and affordable welding solution on the market today.
The Orion 100c offers two different weld modes: Pulse Arc Mode and Micro Mode. Whether an application requires high power welding needs or intricate, precise welds around precious components, the Orion 100c has the flexibility to weld with power and precision.
The Orion Welders product line has the potential to help users increase profits, save time, and unlock potential. By using innovative pulse arc technology, the Orion welders perform laser-like welds without the expensive price tag. Utilizing new technology, users can become proficient at welding within minutes, and can customize every aspect of the machine to fit their preferences.
The Orion 100c is a powerful addition to the Orion line of pulse-arc welding technology. Like all Orion welders, the Orion 100c features a touch screen interface that streamlines and simplifies the welding process – allowing users to do more and to work more efficiently. Users have many features available to them including high-frequency agitation for added penetration and weld strength, precise weld ignition for clean welds and long electrode life, customizable save settings for fast and easy switching between weld settings, and fully updateable and upgradeable software options. As with other Orion welders, the Orion 100c utilizes two different welding technologies – Pulse Arc and Tack. The Tack Mode uses resistance welding technology with up to 100 watt-seconds of energy. The Tack Mode is perfect for temporary placement or permanent fusion welding. Pulse-Arc Welding technology consists of two distinct energy ranges – Micro and Ultra. The Ultra energy range is between 30 and 100 joules of energy for projects that require deeper penetration or a larger spot size. The Micro energym range is between 3 and 29 joules of energy and is perfect for smaller and more delicate pieces. The Orion 100c offers a versatile, compact, and affordable welding system in an easy-to-use package.
Applications

• Filling
• Holloware
• Mold and Die Repair
• Coil Termination
• Relays
• Solenoids
• Pencil Coils
• Transformer Coils
• Actuators
• Inductors
• Seam Welding
• Thermocouples
• Wire Beading
• Weld Any Metal
• And So Much More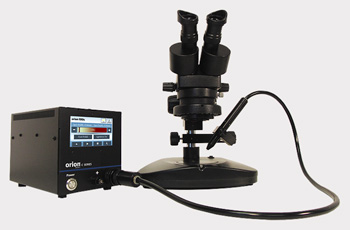 Features

• Touch Screen Display with Multiple Language Options
• Pulse-Arc & Resistance welding capabilities
• Save and Load Settings
• High Frequency Agitation
• Weld Length Options
• Updateable/Upgradeable
• Pulse Shaping Capabilities
• 5x Microscope with Built-in Shutter System
| | |
| --- | --- |
| Features | Orion Pulse 200i & Orion Pulse 250i |
| Type | Pulse-Arc and Resistance |
| Weld Modes | 3 |
| Preprogrammed Metal Settings | 5 |
| Customizable Save Settings | 5 |
| Languages | Multiple |
| Display | 4 inch Touch Screen |
| Pulse Arc Energy (Ws) | 3-100 Ws |
| Tack Energy (Ws) | 3-100 Ws |
| Switching Power Source | 110/240VAC (Auto Detected) |
| Weld Spot Diameter | ≈ 0.75 - 2.5mm |
| Footprint | 9.25" x 5.75" x 6.5" (23.5 x 14.6 x 16.5cm) |
| Weight | 7.5 lbs (3.4 kg) |
| Stereo Microscopic Magnification | 5x |
| Microscope Eye Protection - Shutter System | IR ∞ / UV ∞ |