Maximum Output 8,000W – World's Highest Performance in Its Class!
Includes Color LCD Display and Simple-to-Use Touch Panel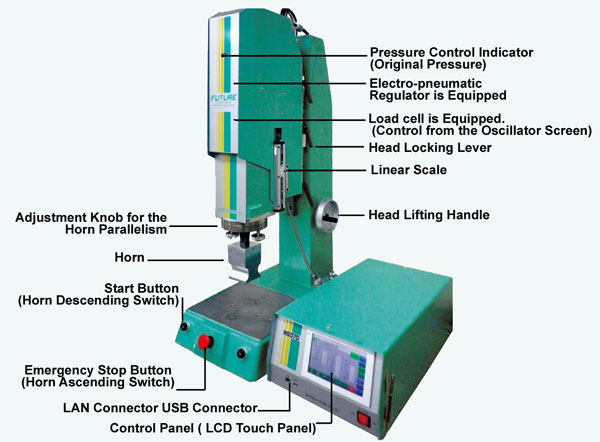 W5000 series ultrasonic plastic welders allow control of welding parameters (welding time, welding displacement, welding energy, & welding data output). A color LCD touch screen front panel provides user friendly and intuitive operation.
Welding parameter data used for controlling can be output to a network environment (LAN) or saved to a USB storage device during operation. This easily accessed parameter data history is valuable for quality control.
Color LCD display of main weld parameter waveforms is beneficial for better on-site management and analysis of the welding process.
Wide Range of Welding Management Functions
•
Welding energy control and managemen
t – Maintains welding energy constant and monitors the upper and lower limits of the weld head displacement
•
Welding process control and management
- Holds and monitors the melting depth (DEPTH) and finished dimensions
(
HEIGHT)
•
Management and recording of set up & welding data
– Records and timestamps each welding parameter. Supports USB storage devices and connection to a network environment (LAN).
•
Control and manage welding time
- Delay, Oscillation period, Retention time (cooling time)
•
Display of power
- Displays the peak power reached during welding
•
Display and record welding waveform
- Frequency, air pressure, applied current, displacement of welding head, actual applied pressure and energy can be displayed and recorded
•
Spherical seat parallelism adjustment
•
Load cell pressure measurement and management
•
1
μm
resolution welding management
•
Electro-pneumatic regulator pressure control