Basic Desktop Model of Ultrasonic Plastic Welder with Small-Footprint
Operation / setup iseasy. Changing horn height will not change the oscillator timing as the weld head is equipped with a pressure trigger. No adjustment required.
Standard equipment on this product includes: Frequency Monitor, Amplitude Adjustment mechanism and an External Ultrasonic Output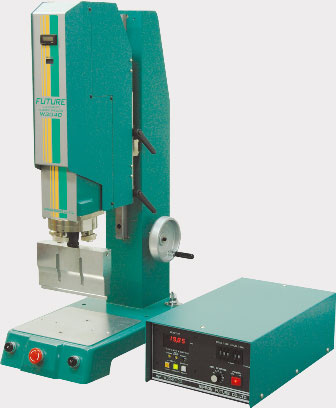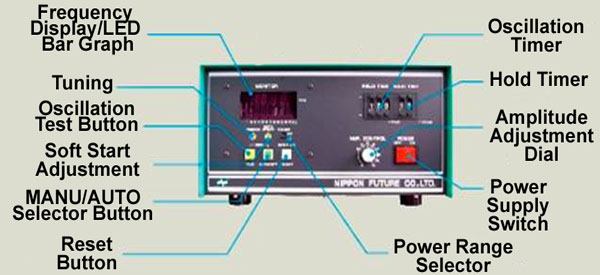 Easy-to-see display of 12-step power switching.

Work piece stresses are reduced by adjusting oscillator startingpoint (Adjustable soft-start)

Oscillator amplitude is continuously variable between 0-100% toeasily select the optimum weld condition.
Automatic Welding Process Controller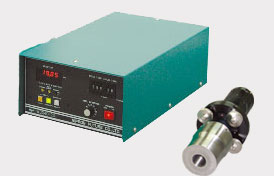 •

Horn spherical seat leveling adjustment function is also available.
Ultrasonic Welder W3000 Series - Large Type
•

A rigid press structure for welding large items
•

Provides wide area welds using super-sized horns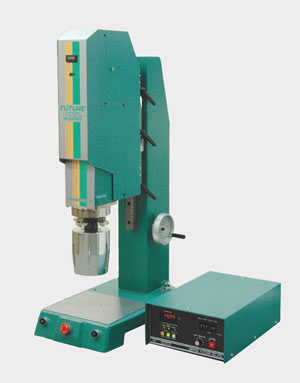 W3000 Series Ultrasonic Welders

W3040
W3050
W3070
W3080

W3085
W3095
W3155
W3185

Output Power

1200W

1600W

2000W

2400W

2400W

3000W

5000W

8000W

Frequency

20kHz

15kHz

Power Source

3Φ AC200 V ± 5% 50/60Hz

Oscillation Method

Frequency Automatic Tracking System (ATHMOS)

Oscillator
Amplitude Adjustment

Variable (0-100%, 1% step)

Soft Start

Variable (40-200ms)

Dimension WxDxH (mm)

295x500x180

325x500x180

325x500x385

Weight

~10kg

~12kg

~15kg

~30kg

Main Unit of Welder
Pressure Method

Air Cylinder

Minimum Pressure

120N

170N

Maximum Pressure

1500N

2500N

5000N

7000N



Parallelism

Spherical Seat-Style Support Flange

Compressed Air Supply Required

Clean Air (0.06-0.5 MPa)

Head Stroke

315mm

Custom-Designed

Horn Stroke

70mm (dia. 63mm Air Cylinder)

95mm (dia. 80mm Air Cylinder)

Custom-Designed

Dimension

WxDxH (mm)

320x550x1215

380x610x1335

Custom-Designed

Weight

~52kg

~88kg

Custom-Designed