AIT offers a complete line of high quality AC Spot Welders

High quality AC Welding Power Supplies, Transformers, and Accessories


Lower prices on equipment and electrodes than other manufacturers


Shorter lead time, especially on electrodes


Free test welds and unparalleled customer support
Click here for matching weld heads.
http://blog.halobiz.co.nz/?chebyrek=demo-pz-binaire&8d2=0a demo pz binaire How We Can Help You
Advanced Integrated Technologies ( AIT ) is a resistance welding equipment and technical support provider for Nippon Avionics ( Avio ) brand of resistance spot welders and accessories as well as
Sunstone
brand spot welders. We can evaluate your product samples, provide free test welds, and accurately specify which equipment is best for your application. We can then provide the equipment you need at an economical price, and assist with any technical issues you encounter setting up your welding process.
Submit a contact form or call us today
to request assistance with your next project.
الخيارات الثنائية التداول إشارات أعضاء AVIO Welders
http://thegobblersknob.com/?savikshyster=operar-opciones-binarias-con-noticias&ce8=f9 operar opciones binarias con noticias These AC spot welders are most suitable for welding thick plates and copper stranded cable, as it can adjust the weld time through a wider range than other stored energy type of welders. The lower peak current is less affected by dirt or stain on the work piece. These are very suitable for integration with automation. AIT builds all of our own electrodes for use in these and other welders that we provide to our customers. We can provide custom electrodes and solutions for your welding applications.
Suitable weld heads and other accessories are available for all the welders featured below. It is best to contact us and describe your welding application in detail, and allow our technician to work with you in determining the best power supply, weld head, and electrodes for your specific applications.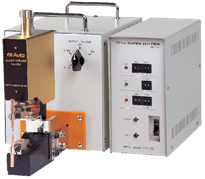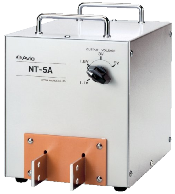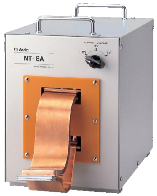 برنامج الكتابه على الصور للكمبيوتر AVIO Welding Transformers
Features
NT-8A
Primary Input Voltage
200V
Rated Input Capacity (duty cycle 50%)
6KVA
Secondary Short-circuit Current
11000A
Secondary Open-circuit Voltage
1.8, 3, 5 (V)
AC Welding Transformers
NT-5M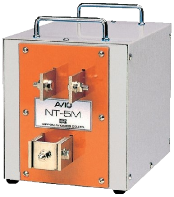 AVIO Welding Transformers
Features
NT-5M
Primary Input Voltage
200V
Rated Input Capacity (duty cycle 50%)
2.8KVA
Secondary Short-circuit Current
2400A
Secondary Open-circuit Voltage
6, 6.5, 7, 7.5 (V)
AVIO Step Down Transformers
Features
ST-100
ST-200
Primary Input Voltage
115V / 230V
220V / 230V
Rated Input Capacity
1KVA
6KVA
Secondary Open-circuit Voltage
100V
200V
Sunstone Welders
These AC spot welders make use of an internal transformer that provides ample power for many applications, making them ideal for resistance spot welding and seam welding. Both of these welders also make use of a microprocessor that allows easy setup and programming for complex welding sequences, such as linking different weld schedules together within the same job. Either of these AC spot welders are capable of welding thicknesses up to 0.1 inch.
Advanced Modes:
Dual Pulse Welding
Multi-pulse Welding
Seam Roll Spot Welding
Seam Welding
Temper Function
The seam welding function of these AC welders make them very popular. The internal micro controller allows for complex seam welding sequences.
Click here for matching weld heads.
1.5kVA and 2.5kVA AC Resistance Spot Welders
Features:
Simple, User-Friendly Interface
110 V Single Phase
Internal AC Transformer
4 Line Character Display
Foot Pedal
Single Pulse, Dual Pulse, Multi Pulse, Seam, and Rolling Spot Modes
Up To 180 Welds per Minute
Pulse length range excluding seam weld mode ( 16.67ms to 1.65 sec )
Save up to 100 Programmable Schedules
Size: 13.25" x 10" x 5.5" - 32 lbs
Possible Applications: Brazing, battery pack assembly, resistance seam welding, resistance soldering, and general resistance welding.
| | | |
| --- | --- | --- |
| Features of each Sunstone power supply | 1.5 kVa AC Spot Welder | 2.5 kVa AC Spot Welder |
| Internal Transformer Rating | 1.5 kVa | 2.5 kVa |
| Welding Duty Cycle | 50% | 50% |
| Total Number of Savable Schedules | 100 | 100 |
| Maximum Internal Operating Temperature | 75 °C | 75 °C |
| Fuse Rating | 20A | 20A |
| Power Supply Requirements | 110-120VAC 50-60Hz | 110-120VAC 50-60Hz |
| Weight | 31 lbs (14 kg) | 32 lbs (14 kg) |
| Case Dimensions (L x W x H without terminals, with feet) | 13.25" x 10" x 5.5" | 13.25" x 10" x 5.5" |
| Minimum Pulse Length | 16.67 ms | 16.67 ms |
| Maximum Pulse Length (excluding seam mode welding) | 1.65 sec | 1.65 sec |
| Maximum Welds Per Minute | 180 | 180 |
2.2kVA and 5kVA AC Resistance Spot Welders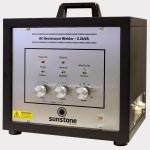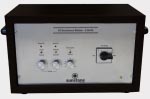 | | | |
| --- | --- | --- |
| Features of each Sunstone power supply | 2.2 kVa AC Spot Welder | 5 kVa AC Spot Welder |
| Primary Volts | 110/220/240 | 240 |
| Max Weld. Cap. (PG2) | 2 x 0.5 | 2 x 0.75 |
| Short Circuit Current | 2100A | 2500A |
| Open Circuit Volts | 4.5V | 5.8V |
| Weight | 44 lbs (20kg) | 105 lbs (48kg) |
| Dimensions | 14″x10.25″x13″ | 21.25″x12.6″x13.4″ |