AIT offers the AVIO line of quality high speed Inverter Welders

Providing you with equipment and technical support


Lower prices on equipment and electrodes than other manufacturers


Shorter lead time, especially on electrodes


Free test weldsand unparalleled customer support
How We Can Help You
Advanced Integrated Technologies ( AIT ) offers you free test welds to help
determine if an inverter welder is the proper equipment for your application.
We are a equipment and technical support provider for
Nippon Avionics ( Avio )
brand of precision inverter welders. At AIT, we have chosen the AVIO line of equipment because you get more advanced technology, quality, and precision for your money than with other popular brands. We can provide the equipment you need at an economical price, and assist with any technical issues you encounter setting up your welding process.
Submit a contact form or call us today
to request assistance with your next project.
Click here for matching weld heads.
AVIO Inverter Welders
High speed and precise control of wave form

3 Feedback modes (constant current, voltage, or power)

Pre-weld check function

Up to 3 second weld time

LCD graphic display of welding wave form

Multi Transformer System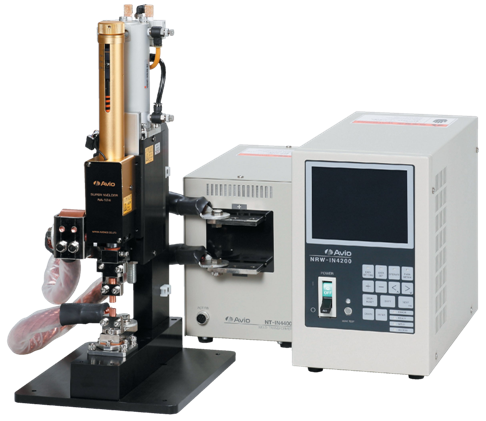 Multi-transformer System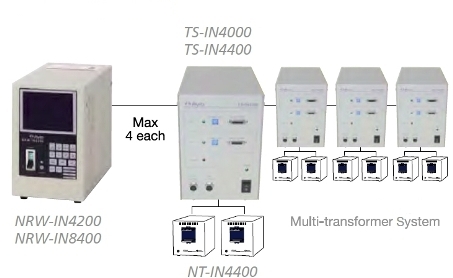 Graphic Display of Welding Waveform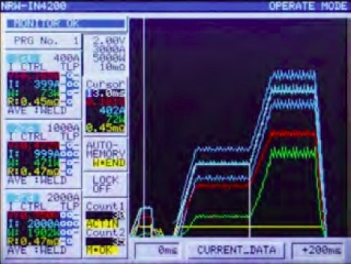 Features
NRW-IN4200
NRW-IN8400
Welding Transformer
NT-IN4400
NT-IN8400 / NT-IN4400
Maximum Current
4000A
8000A / 4000A
Control Frequency
2KHz
Control Mode
Constant Current, Voltage, or Power.

Fixed Pulse Width
Range of Timer Setting
Pre, 1st, 2nd, UP, WELD, DOWN
Total Time 0.5 - 3000ms
Setting Range for Weld Type
Current 0.4 - 4.1KA
Current 0.4 - 8.2kA / 0.4 - 4.1kA
Voltage 0.4 - 4.1V
Voltage 0.4 - 6.2V / 0.4 - 4.1V
Power 0.2 - 8.2kW
Power 0.2 - 24.5kW / 0.2 - 8.2kW
Current/Voltage/Power, Resistance Monitoring
Average/Peak/Profile
Trace Monitoring
Current, Voltage, Power, Resistance
Display of Wave Form
Current, Voltage, Power, Resistance
Number of Condition
31
Interface
RS232C
Power Source
200-230 V AC
380-415V AC / Optional 200-230 V AC
Welding power supplies come in two broad categories, "closed loop" and "open loop". Open loop designs are capacitive discharge welders and most direct energy, or AC power supplies. These essentially offer no feedback, meaning that a weld command or pulse is sent out, but there is no circuitry to verify how that pulse responds when it hits the point of welding. Closed loop welders are inverter type (high frequency inverter) and transistor type (linear DC) welders. These type of welders are able to control the shape of the welding wave form and monitor the condition of the weld using one of three feed back modes, "constant current", "constant voltage", or "constant power". These feed modes offer great advantages such as better process consistency between multiple weld stations, reduced number of bad welds, and real time automatic adjustment for variations in part thermal loading and plating.
Inverter welders use pulse width modulation to control weld energy. Through a series of rectifiers and switches, the resulting output current is in the form of DC current with an imposed low-level AC ripple. The time of each piece of a cycle can be controlled in sub millisecond increments. Inverter welders have high repetition rates, making them particularly useful in industrial automation.
The Avio welders we are offering here are premium quality Japanese made high frequency inverter welder. We stand by these welders and guarantee our customer support and assistance when you buy an Avio welder from us. All electrodes are manufactured by AIT in our facility in the United States. We can respond quickly to your needs and build custom electrodes to help resolve any welding issues you encounter. Contact us today to see how AIT can make your next welding project a success.